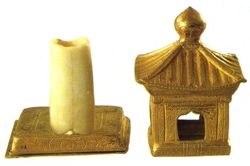 37mm 크기의 희고 노란색을 띤 부처님의 손가락뼈사리가 진짜 손가락뼈 사리를 보호하기위하여 만든 다른 3개의 모조품 손가락뼈 사리와 함께 발견되었습니다.
Housed in Fa Men Si Monastery, Shaanxi Province, China.에서 1987년에 사원관리인들이 단순히 무너져 내리는 탑을 보수(개축)할 때 발견된 이 석가모니부처님 손가락뼈사리는 석가모니부처님이 BC485년에 열반에드신 약 200년 후 인도로부터 가져와 지하 궁전에 모셔놓고 황제들만이 친견의식을 치르다가 Tang왕조(618-907 A.D)때 황제의 명에 의하여 Fa Men 사원의 탑 지사아래에 모셔졌다고 역사상 문서에 의하여 전해졌다고 합니다.
'Like seeing the Buddha'(
붓다를 보는것과 같이)
"Looking at the bone is like seeing the Buddha himself," Chinese monk I Kong told The Associated Press.
스님 Kong은 "손가락사리를 보는 것은 스스로 석가모니부처님을 보는 것과 같다 "라고 , AP 통신에게 말했습니다.
"We hope Buddha's finger could inspire friendly love and peace across the Taiwan Strait" to China.
A flower-decorated float carrying the finger was paraded through Taipei streets in a procession led by women in traditional long dresses and monks in yellow robes chanting scriptures.
Buddhists waving yellow flags lined the streets to welcome the finger.
Later, thousands of Buddhists attended a ceremony at a Taipei stadium where the finger was placed on an orchid-decorated platform for worship.
Taiwan and China separated amid civil war in 1949. In recent years, many Taiwanese have visited Chinese temples to worship and view their rich collections of Buddhist scriptures and relics.
(CNN News February 23, 2002)
아래 기사내용 요약...과거 중국에서 대만의 불교신자들을 위한 37일간의 석가모니부처님의 손가락사리를 친견할 수 있도록 방문했을 때에는 100,000여 대만불교신자들이 맞이했다고 합니다.
100,000 Taiwanese Greet Buddha's Finger Relic From Mainland
Some 100,000 Taiwanese Buddhists greeted a relic said to be the 2,500-year-old finger of Sakyamuni Buddha as it arrived from Chinese mainland on Saturday.
The arrival of the Buddhist treasure marked one of the most important cross-Straits religious exchanges.
The crowds chanted sutra and clasped hands to pay respect as the relic was moved from Taipei airport Taiwan University stadium, local television pictures showed.
What may be Buddha's finger is on display in Taiwan
2003년 3월 18일 BBC New 보도사진
The entourage was led by marching bands and police vehicles on its way to the stadium, which was decorated for worshippers.
Hundreds of Taiwanese Buddhists accompanied the finger on its journey from Xi'an, in northern Shaanxi province, to Taiwan via Hong Kong.
The relic will be displayed around Taiwan for 37 days.
BBC New 보도사진
Sakyamuni Buddha died in 485 BC and the finger was brought to China from India some 200 years later, historical documents show.
A Tang Dynasty emperor ordered it to be sealed under the pagoda in the Famen Temple in Xi'an in 874 AD.
The finger was not seen in public until 1986, when the provincial government cleared the rubble of the temple's pagoda after heavy rains caused it to collapse in 1981.
(China Daily February 24, 2002)